Chalk About Suicide
September 1

-

September 30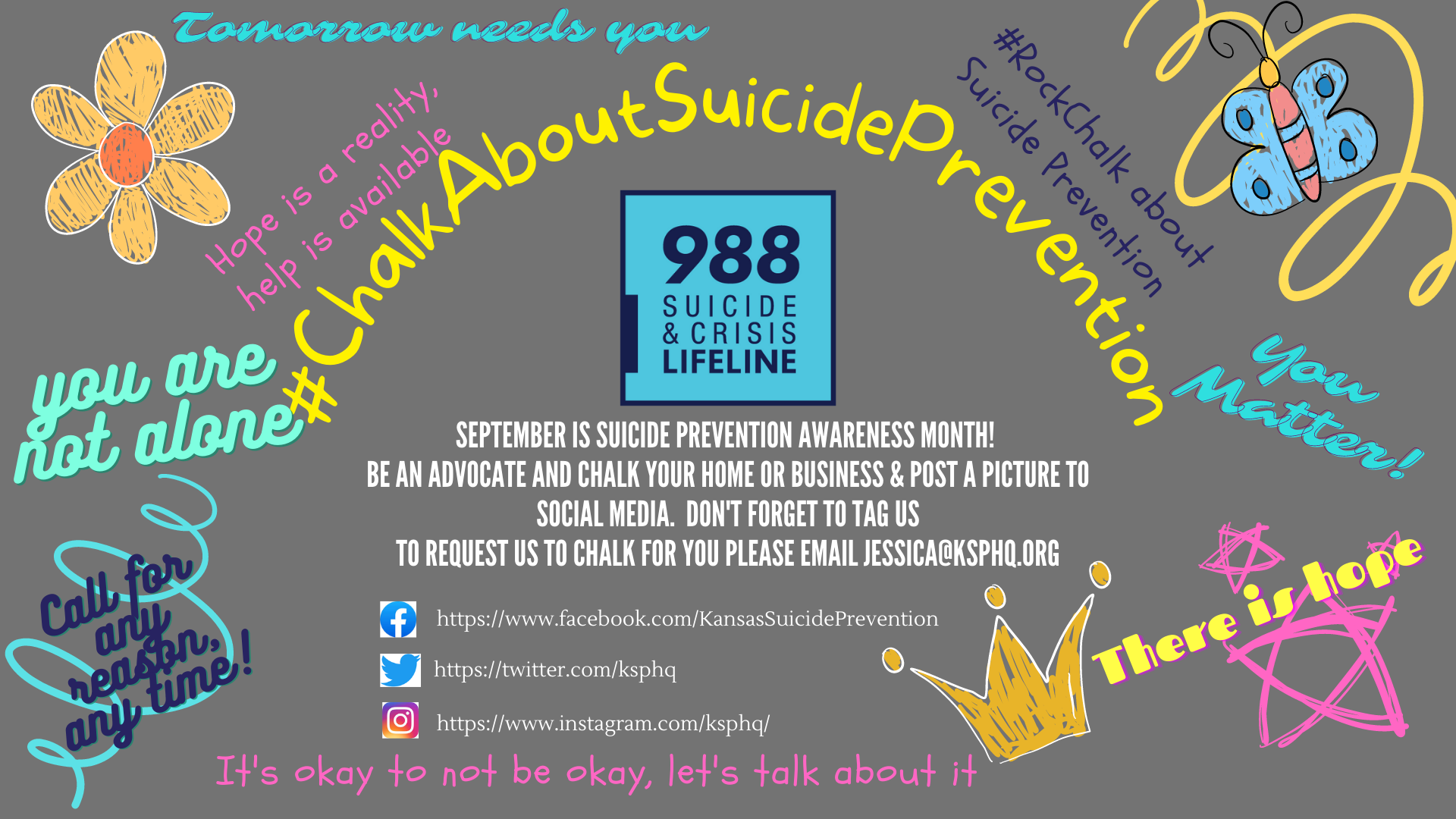 This September, we're chalkin' & talkin'
Join us in KSPHQ's second annual "Let's Chalk About Suicide Prevention," a fun and inspiring way to spread awareness for mental health and open conversations about suicide prevention resources.
---
What?
– Use chalk to design positive messages of hope and resilience all over your community.
– Write inspiring messages for others to see!
– Promote mental health resources like the National Suicide Prevention Lifeline number (988) and the KSPHQ Local Crisis Line (785.841.2345)
– Share your inspiring messages with others and open up conversations about mental health, suicide prevention, and MORE.
---
When?
– Join us for National Suicide Prevention Week (September 4th – September 10th)
– Or join us all month long in September!
---
How Do I Get Involved?

First, grab some chalk and get CREATIVE.
Next, Share your chalky-messages of hope with us!
Use #ChalkAboutSuicidePrevention, #NSPM, and other hashtags so that we can find your pictures!
Show us your photos on our Facebook Event – #Let'sChalk About Suicide Prevention – NSPM – KSPHQ

Post directly to the group and talk to others about their art!
---
Do You Know a Business That Wants to #CHALK? We Can Help!
We know how hard it can be to find the time to chalk. Click the picture or this link and ask us to come and chalk-up your business for you!
(At this time, we are only able to accept requests in the Lawrence / Douglas County area).
---
Best Practices for Chalking and Talking
Be Respectful: Consider your neighbors and the other individuals who will see your chalk masterpieces.
Remember the "Why": Our mission is to spread joy, optimism, and inspiration; if what you're drawing or writing doesn't help fulfill that goal, please reconsider the message you are giving.
Keep it Clean: It is very difficult to spread positivity if the content is offensive; if it's too much for an 8-year-old to see, it's too much for #Let'sChalk.
Have Fun: Art and recreation are important to our mental and emotional health. Make the most of this time, and be sure to have fun!